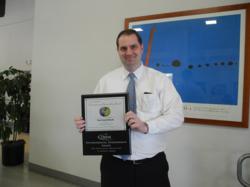 Myrtle Beach, SC (PRWEB) January 31, 2013
East Coast Honda, a Myrtle Beach area automobile dealership recently completed a project to upgrade their existing lighting systems to reduce electricity costs and improve lighting quality. At the same time their reduced electricity usage has resulted in less greenhouse gas emissions associated with electricity production.

Southpoint Solutions worked with East Coast Honda to develop and implement this project utilizing the patented technology of Orion Energy Systems. The existing lighting system, which consisted of over 146 inefficient high-intensity discharge (HID) light fixtures, was replaced with Orion?s high-intensity fluorescent (HIF) technology.

As a result of the project, East Coast Honda expects to cut its light-related electricity usage, and associated costs, by almost 70 percent. An added benefit is that lower electricity usage means less fossil fuel emissions associated with electricity production. By completing this project, East Coast Honda has indirectly reduced the amount of air pollution by 303.9 tons which has an equivalent impact of saving 37,745 gallons of gasoline annually or planting 83 acres of trees.

Honda is driving to align themselves with their environmental missions set forth in 1992. They have made it a mission to preserve the health of humans and the environment. Honda has opened three LEED Green-Building certified facilities with a total of 11 LEED certified facilities.

Kirt Cahill, the controller for East Coast Honda, said ?We considered four other vendors that proposed systems that included LED and induction technology, but felt that Orion?s high-intensity fluorescent fixtures were the best fit for their needs. Not only did they fit their needs, but there was a price advantage with the Orion product.?

East Coast Honda is the greater Myrtle Beach Honda dealer with a mission to make every customer a customer for life by consistently providing world class services. For more information, visit http://www.eastcoastcars.net.

Southpoint Solutions, LLC. is an energy services company whose mission is to help commercial and industrial companies reduce energy costs and achieve environmental objectives by developing and implementing turnkey energy efficiency projects consisting primarily of high-performance, energy-efficient lighting platforms, intelligent wireless control systems and direct renewable solar technology. For more information, visit http://www.SouthpointSolutions.com.
Find More Health Press Releases